The ENSO gift voucher is the perfect idea for a present for any occasion, which the recipient will surely enjoy. Holidays, birthdays, name days, etc. are undoubtedly moments that deserve special kindness and gratitude.
A voucher for cosmetic procedures or massage is also a great and original solution for a last-minute gift for all those who have a problem with an idea or choosing the right present.
The voucher can be purchased directly in the salon or ordered online by writing to the email address enso@studioenso.waw.pl, or by phone at +48 570 48 00 68.
The voucher can be sent to the indicated address, sent to an e-mail address in pdf format for you to print, sent by SMS in the form of an e-code or picked up in person.
You can make an appointment in person, by phone or online.
The person making the voucher can choose several treatments so that their total value corresponds to the value of the voucher; there is a possibility of using a more expensive procedure for an extra charge; there it is a possibility to exchange the selected service for another at the same price or a more expensive one for an additional charge.
The gift voucher for treatment is valid for 3 months from the date of issue.
The gift voucher is not refundable or exchangeable for cash.
If there is a difficulty in choosing a treatment or massage for the recipient, I will gladly answer the questions and help in the selection.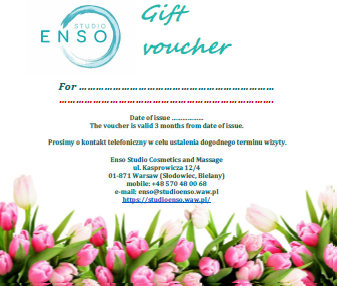 Nieniejszy mail jest pułapką na osoby rozsyłające niechciane wiadomości. Prosimy o nie wysyłanie na niego żadnych wiadomości gdyż Państwa adres może zostać pernamentnie zablokowany.
alexander@secretcats.pl
. Jeśli jesteś właścicielem niniejszej strony możesz usunąć tę notkę jednak pamiętaj, że ta pułapka ogranicza niechciane maile wpadające na Twoje skrzynki pocztowe.